The perfect topic for hot weather – the biggest ice cream parlour in the world
10-07-2019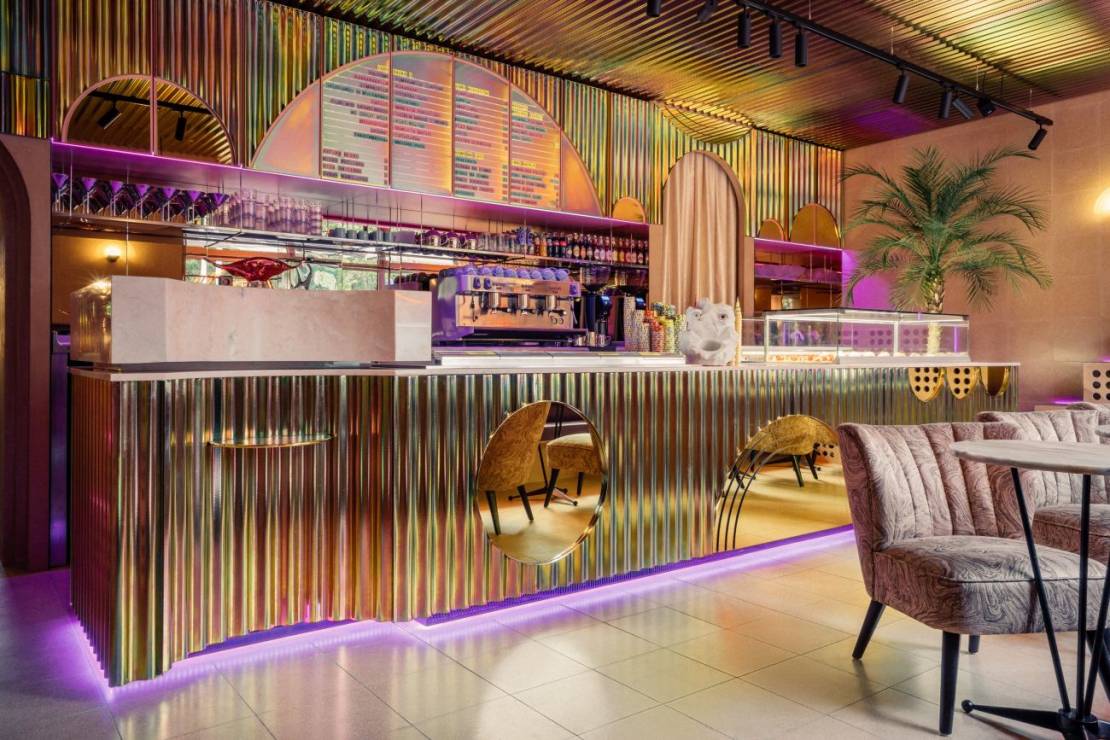 For several days, thermometers in Poland showed true summer temperatures. One of the best known – and certainly the sweetest – ways to deal with hot weather is eating ice cream. Below we list the ice cream parlours that nobody will pass by. We all know that our favourite ice delicacies are best enjoyed in a delectably decorated interior.
Minimalist, candy interior of an ice cream parlour in Mielec

Our tasty presentation starts with an ice cream parlour in Mielec which has been acclaimed to be one of the best ice cream parlours in the world by the prestigious "Wallpaper" magazine. The creators of its unique pastel appearance are from the Pigalopus studio: Malwina Borowiec and Karolina Chodur. A mint refrigeration counter, a shelf for additional ice cream and tiles of the same colour are combined with a touch of pale pink, white and dark turquoise floor tiles. The extraordinary character of the new branch of the "Dudek" ice-cream parlour, which has been operating for 31 years, is made even more unique by holographic confetti-shaped stickers thanks to which the light shining through the interior reflects thus creating interesting effects on the walls. Despite the ice cream parlour's small size, there is still some space for a table and bar stools. There is also a bench in front of the building as well as a summer garden
Lodziarnia Dudek, Mielec, Polandhttps://www.facebook.com/lodydudek/
"Instagram" ice cream parlour in central London

Cloud-shaped ceilings and neon lights are just some of the elements used by the FormRoom studio to create the first commercial space of the brand, which has become popular thanks to their crazy ice cream offers. The main inspiration for the interior of 'Milk Train' was the classic British steam train, which is why the ice cream menu is printed on blackboards with white letters that look like typical switchboards with special flaps showing the departure times of trains at the station, cabins with seat numbers, just like train platforms, were covered with pale blue leather. This is all complemented by frosted glass panels that have been fitted to the façade of the store front and are supposed to resemble misty windows through which travellers admire the scenery they pass by.
Milk Train, Covent Garden, London, UK
https://www.facebook.com/milktraincafe
Photo: Paul Lewis
Perfection, sophistication and luxury

The historic Milanese confectionery shop opened its doors in 1824 and since then has been at the forefront of extremely beautiful places serving delicious ice cream and beautifully decorated cakes. You will find its branches both in the original location at Santa Maria alla Porta and at 'younger' addresses: Via Monte Napoleone 9 (this one is especially recommended!) and the Galleria Vittorio Emanuele II. These confectioneries, whose majority shareholder since 2014 has been PRADA, are known for their passion for perfection, refinement and the care taken for the quality of their sweet delicacies.
Pasticceria Marchessi, Milan, Italyhttps://www.facebook.com/Marchesi1824/
The sun of St. Tropez in Warsaw's Powiśle

The inspiration for the newly created 'Lukullus' ice-cream shop was the sun of St. Tropez, the aesthetics of the 80s and 90s, works by Carlo Scarpy and pieces of art by designers from the Memphis group. It is bold, energetic and colourful! As you enter you will be greeted by a crazy combination of golden palms, pink, mint, terrazzo and ubiquitous mirrors as well as a menu consisting of craft ice cream in original flavours (we recommend those from Damask rose and fresh raspberries!) and selected Lukullus pastries.
A juicy photo session with Tomo Yarmush is a beautiful complement to experiencing this fascinating place.
Lukullus w Saint Tropez, Warsaw, Polandhttps://www.facebook.com/cukiernialukullus/
Unusual ice sandwiches

The fresh interior of "Parlor" ice cream shop is the work of promising young architects Lenka Míkova and Markéta Bromová. This beautiful place is full of vintage finds, unique glass and copper lamps. The ubiquitous greenery is located in the heart of the fashionable business district of Karlín and offers eight different flavours of biscuits, twelve different types of ice cream and eight types of additives, which create over 6,000 different flavour combinations!
Parlor, Prague, Czech Republichttps://www.facebook.com/parlorcafe/
The love for experimenting

"Sweet Salvation" was born out of a love for experimenting. This small ice cream shop aims to combine conceptual thinking and high-quality ingredients and products to create something that tastes nothing like what you've ever seen or eaten. The Toronto-based design company Navigate Design is responsible for the appearance of the first store of the chain located outside of Canada.
Sweet Salvation, Dubai, United Arab Emirates