Interior trends worth remembering at the turn of 2019 and 2020
21-12-2019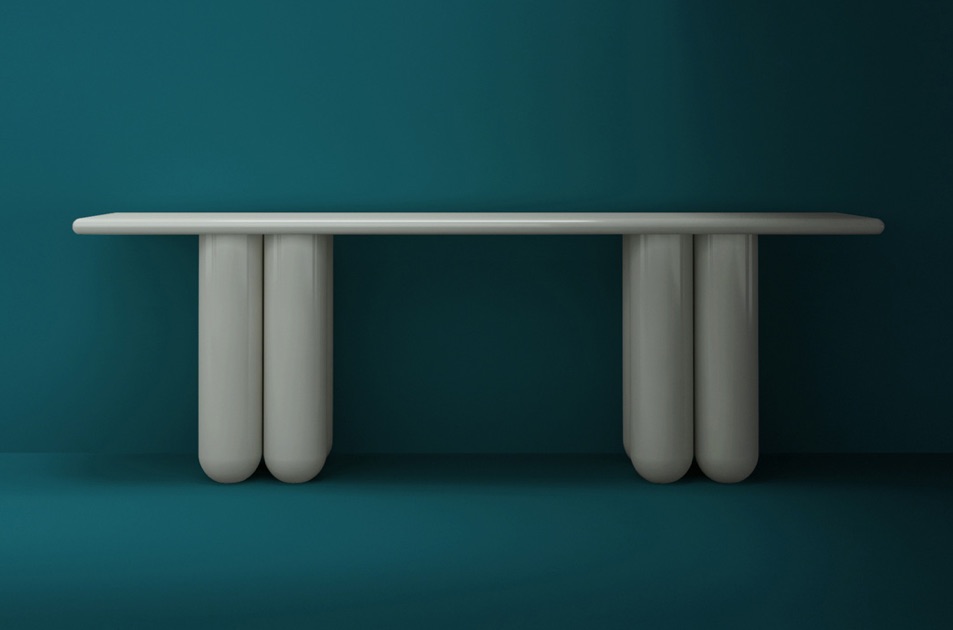 It's no secret that when it comes to creating the perfect space for a home, office or boutique, it is crucial to choose the right elements of decoration. To help you navigate sensibly around the area of the guidelines at the turn of 2019/2020, we have developed a list of interior design trends that are worth remembering and keeping in mind in the near future.
1.
Soft bouclé fabric referring to the 1970s revival

The ongoing revival of this progressive decade of design also brings back a special texture to grace: lavish bouclé fabrics (from French "bouclé" – curly, frizzy) in white or ecru. Thanks to the greater depth and fleshiness than the usual woollen weaves, the bouclé fabric – characterized by smaller or larger beads, loops and knots – gives the furniture deep comfort and a cosy quality. They simply lure you to touch!
2.
Bold wooden furniture that gives a sense of stability

Furniture with thick proportions is gaining popularity – sets of massive boards and logs ensure a calming solidity. Regardless of whether those are stacked or curved arches, they speak of primitive simplicity and embody honesty. The warmth of wood is also a fantastic counterpoint for bouclé fabrics, which can be seen in the examples of arrangements of many recognised designers and architectural studies that have successfully combined these two trends of the year.
3.
Life in the sea captured in an abstract way

From very literal references throughout the sea of shell-shaped accessories introduced this season to the range of interior boutiques and to more abstract interpretations of forms of larger furniture – this is another trend that the design world has been living in lately. The opening and closing swirling shapes of shells and crustaceans inspire characteristic pattern designs and are nice, uplifting additions like souvenirs brought from a day at the beach.
4.
Internal textures and layers that create "movement" in the glass

Products that use the structural properties of glass (such as bending, draping or stamping thick sheets of material into the right shape) are becoming more and more fashionable. Some designers produce precisely designed elements with clear intersections and clean lines, while others display the behaviour of the material in the liquid, celebrating bubbles and flows from melting, casting and forming processes. Everyone plays with movement, depth and luminescent colour derived from the transparency of the material.
5.
A brushed surface gives metals a softer look

Metal finishes now take on a softer look. Smoothly brushed aluminium and steel take over the interest previously reserved for effective shines or bright shades of brass and copper. Today's metals reflect light in a more subtle way by gently taking on the colours of their surroundings. Still inspired by the industrial style, the current satin finishes are, however, to provide a more seductive accent and a refined edge on flattened metal surfaces. 
6. P
ainted surfaces give the interior a deep gloss

The colourful surfaces move in the opposite direction to the metallic and the high gloss quickly becomes a hit. The lacquered surfaces, immersed in vibrant colours, are refined due to the optical depth of their finish, which is obtained by the gradual application of thin coatings for an elegant gloss. These extremely saturated elements, traditionally associated with the traditions of the Far East, seem evidently modern – simple shapes acquire tempting wealth.
7. S
ubtle and harmonious combinations create a refined palette

Pastels from previous seasons are now giving way to sophisticated shades of sand, cocoa, oatmeal or dark grey. Quiet, calm sets of calming colours create oases of peace in a vibrant life. They are also gaining special importance in workplace design, reflecting a move away from relentless activity and insistent colours of the last decade towards a more focused and thoughtful environment.
8.
Light that provides wider, softer lighting

Following the lighting trend inspired by celestial bodies, tiny light sources have become the satellite of their own giant reflector. Thanks to LED technology, which rewards small light bulbs and slim electrical connections, designers play with the possibilities of spatial and spacious compositions by creating effective elements with a balanced presence. The emphasis is primarily on softening the light by reflecting and not shading.