Gift guide – Polish designers and artists
21-12-2019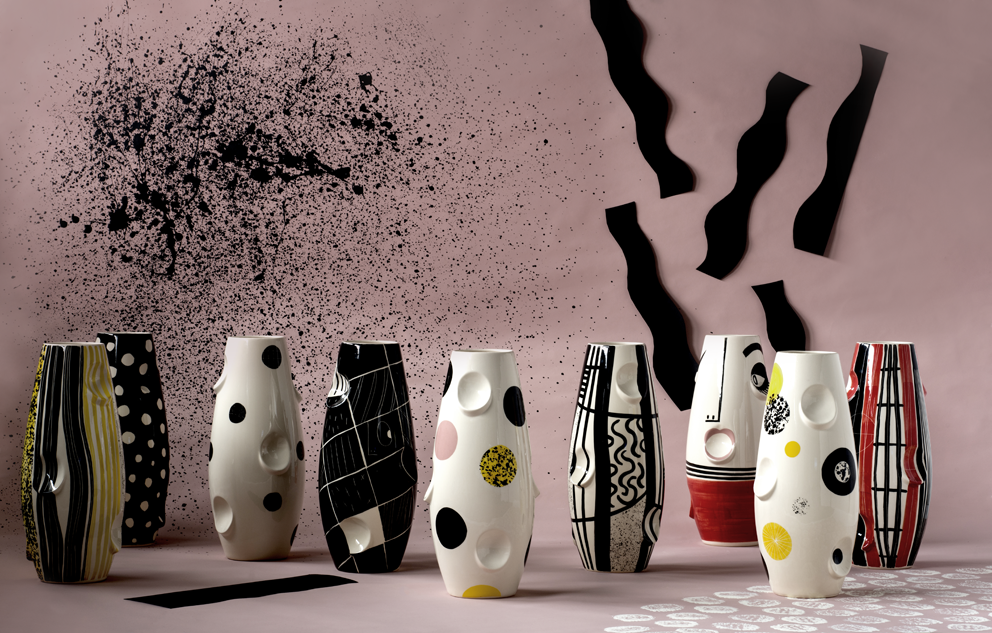 Making gifts for our loved ones…who doesn't enjoy it? In the current pre-Christmas period, we are looking for smaller and larger presents to pamper our family and friends. To make your life easier, we have prepared a unique selection – this time Polish designers exclusively in order to help you make informed choices and, ultimately, please your recipients.
Original designs, high-quality materials, a timeless structure and sophisticated details are the essence regardless of the occasion.
Let's care for each other!
Silk scarves with a panorama of Warsaw

At the end of November, the first Hermès boutique in Poland was opened in the Hotel Europejski. The design of this unique space was kept secret until the very end to seduce us with famous handbags, perfumes, porcelain and accessories as well as clothes. These accessories – especially the flagship product of the French fashion house (i.e. the silk scarves) – drew our attention. The scarves created in cooperation with Jan Bajtlik present the fabulous panorama of Warsaw, amongst others.
Hand-painted

OKO is a limited series of ceramic, hand-painted objects made by illustrator, graphic artist and designer Malwina Konopacka. Vases appeared in the collections of cobalt | 2014, jungle | 2015, DS | 2016, CutOut | 2016, La Cité | 2017 and in the version in gold and platinum dots. In 2018, the Teresa vase joined the OKO family. The Aniela cake stand and modular Nana vase have also been in production since 2018.
All collections resemble a freely developing thread; subsequent versions of the game between form and imagination. Each is different but does not break with its classic form.
Whichever product you choose, you can be sure that it is a work of sophisticated art – after all, Konopacka's vases have already become icons of contemporary Polish design.
The unusual monograph Herse. Warsaw Fashion House

The Bogusław Herse Fashion House, which operated in Warsaw from 1868 to 1936, first on ul. Senatorska and then on ul. Marszałkowska 150, was the symbol of luxury for three successive generations of Warsaw residents. Agnieszka Dąbrowska, author of the monograph Herse. Warsaw Fashion House, takes the history of the company to her workshop, making it the background for fashion stories from the second half of the nineteenth and early twentieth century.
https://muzeumwarszawy.pl/herse-warszawski-dom-mody/
B
ling-bling of the premium class

Jewellery designed and made by father and daughter Bogumił Bytomski and Julia Bytomska in their family studio is an unusual gift. These handmade rings, necklaces and earrings are made using only 'fair-mined' certified stones, silver and gold. The non-traditional, sculptural form – which refers to the irregular shapes and textures of the natural world – remains in constant touch with the body. It stimulates the senses, imagination and provokes fun, which allows for a moment of pleasure, respite and smile. Precious metals, traditional jewellery techniques and attention to detail guarantee a sense of comfort and quality.
The art of stamping

The POP App collection of plates and vases, designed by Natalia Suwalski for Manufaktura in Bolesławiec, is a reinterpretation of the European heritage which proves that local craft traditions can be combined with contemporary themes. The POP App is ten decorative plate designs and eight designs of modern vases of a spectacular look, both individually or in sets. The themes and colours of the individual elements of the collection allow them to be combined in many ways.
https://ceramika-design.com.pl/natalia-suwalski
P
aper restored to favour

In the era of communication based on text messages and online messenging services, receiving handwritten messages, greetings or wishes is quite unusual. The Suska & Kabsch brand was established to let us "wish nicer" and to give modern cards, wrap gifts in beautiful papers or make a gift of unique notebooks for special occasions (or without any occasion).
https://suskakabsch.bigcartel.com
U
nique compositions

Decorative trays, paintings and coffee tables made by Olivia Styrylska from epoxy resin are to be, of course, a decorative element of the interior of the office or apartment but also stimulate the imagination of the recipient.
E
xcellent air quality
Titanium, silicon, air is a collection of Paulina Kwiatkowska's objects which affect indoor air quality. The beautifully designed objects take care of our interiors: they clean the air, regulate humidity and ensure the optimal temperature. Depending on the space and desired scale of operation, the objects can appear in various sizes and, thanks to well thought-out forms, also provide a beautiful background for home life.
Snakes and Magnolias playing cards

A deck of cards illustrated with watercolours by Jagna Wróblewska – a painter, illustrator and poster artist whose works can be seen, among others in the magazines Podróże, Poland Today, Pismo, Koń Polski, Smak and Visegrad Insight is a real treat for lovers of unique trifles. The set consists of 52 cards and two jokers – the obverse and reverse of each of them has been painted entirely. The artist has replaced traditional figures with illustrated animals: monkeys, forest animals and birds.
The uniqueness of such a gift is emphasised by the limited number of decks in this series – only 500 of them were created and they are all numbered by hand.
https://jagna-wroblewska.shoplo.com/karty-do-gry
For the love of nature

The Ondo studio is a small workshop in Zamość which was created out of love for nature, handicraft and good minimalist design. Its offer includes natural handmade soaps, soy candles and small concrete bathroom accessories. All products are made from ingredients obtained from ethical sources.
http://ondopracownia.pl/kategoria/wszystkie
Wooden Story –
wooden miracles for the youngest

Beautiful toys made of certified wood will bring joy to every toddler Their strength is the simplicity that develops the imagination and care for the safety of little ones in that only natural dyes with an eco-certificate are used to give them colour and the finish – with beeswax and vegetable oils – gives the wood a perfect smoothness. A pleasant complement is the packaging – canvas sacks and cardboard boxes designed so that they can be reused or easily recycled. 
"Turonie, żandary, herody" from Dwie Siostry 
Publishing House

A stunningly colourful activity book which introduces you to the magical world of rural carollers – from Christmas to Easter as well as through the carnival. The masqueraders from the old folk tradition became the characters of the book by Anna Kaźmierak which not only tells an engaging story but also frees the children's imagination and encourages drawing.
https://www.wydawnictwodwiesiostry.pl/zapowiedzi/prod-turonie_zandary_herody.html