Beata Śliwińska "Barrakuz" talks about the creative process, inspirations and plans for the future
30-06-2019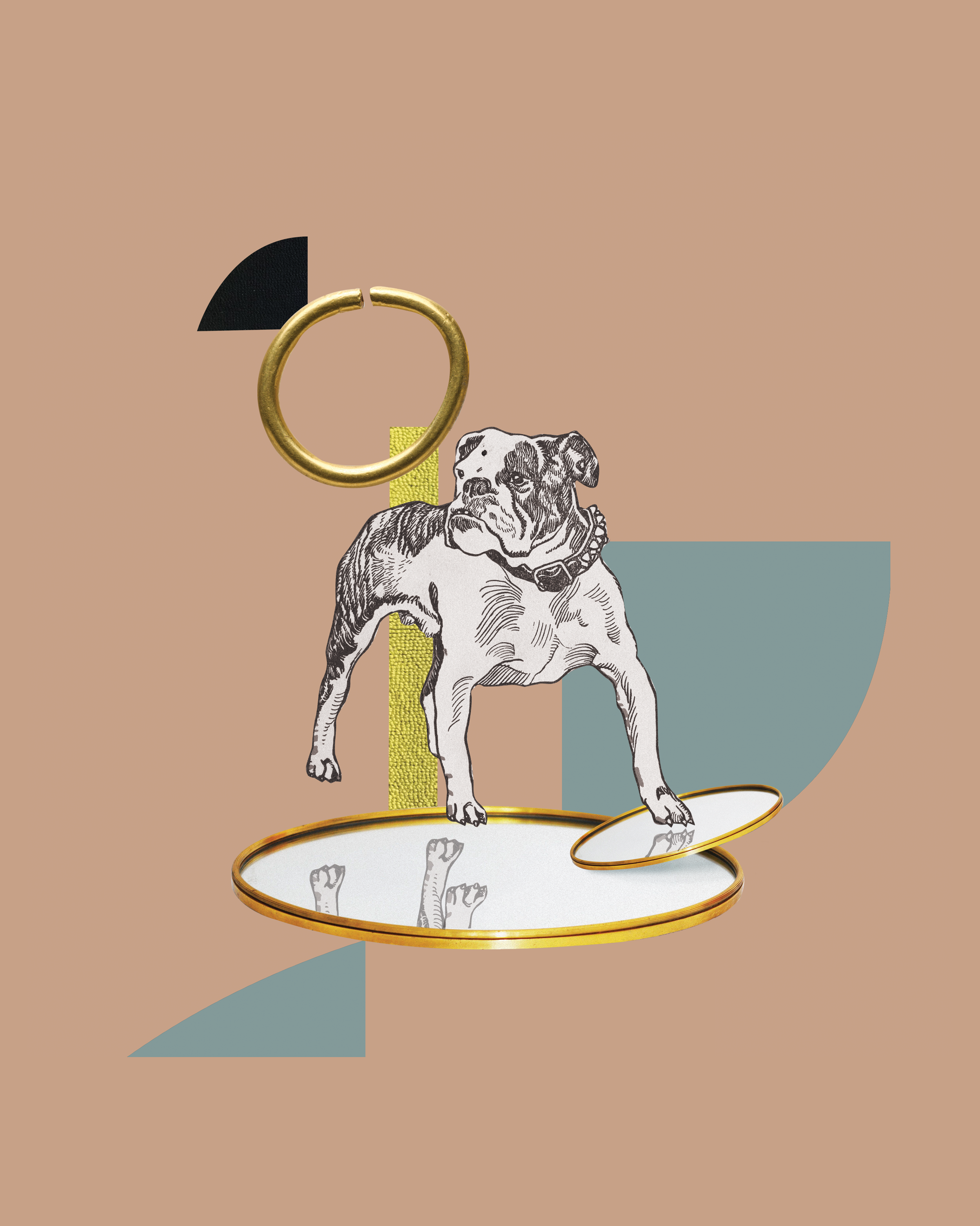 The first work from the series "Artistic dimension of Anegre" – a collage by Beata Śliwińska "Barrakuz" – was presented in our exhibition space during the Warsaw Home Fair. This cooperation was a great opportunity to talk about the creative process of the designer, her inspirations and plans for the future. Have a pleasant read!
Igor Gałązkiewicz: What does your creative process look like? Do you have a fixed action plan and defined sequences or is it spontaneous?
Beata Śliwińska: The creative process is very different depending on the design, ideas and assumptions. There are designs that pop into my head then I transfer them to a piece of paper or write them on my iPhone. I then develop them using a computer.
Yes, I could divide it into sequences. Usually the first one – B2B – is the most difficult for me because I have to collect all the key information here i.e. the needs. There is then a synthesis of all components – "solving the problem" by searching for materials, research and coming to what the content of the project will be until I feel that it will be good and that this is what I want to show/convey.
I.G.: The collage is a quite specific form of expression. Although its roots date back to ancient China, it was really popularised by the 20th-century avant-garde, from the surrealists to the constructivists. Since then, it has made a big career but it is always a bit on the side of the mainstream, autonomous and specific. What is the most appealing to you in this technique?
B.Ś.: I think of collage as a very disadvantaged area in the last century. Strongly infantile and unclassified, it is still not officially recognised as a discipline of art. It is still referred to as "vintage" today.
I try not to call my works collages – there's too much interference in the matter to stay with that terminology. Yes, I use photographic, graphic and public resources but the work is not usually based only on gluing two forms to get a third one. In my projects, I interfere with colours, mask elements, use chiaroscuro and graphic photo manipulations. Recently, I have also been focusing on 3D elements.
It's a more futuristic version of a traditional collage. I think I'm most attracted to chance – there is no place for sketches as a design is often created from a coincidence, at the beginning there is no plan. I only plan a model and typography – the rest I leave often to intuition and the spur of the moment.
I.G.: You often work with brands. How do you rate their awareness of the potential hidden in communication through art? Are these thoughtful activities that give the artist creative freedom? Are temporary orders, without more reflection, just intended to impose a nice layer on the product?
B.Ś.: All clients with whom I work are aware that I do not enter the project as a "worker". If you are applying to a specific creator for a specific piece of work, you must respect his or her vision of the topic.
I'm stubborn and do not like when the client interferes too much with the project. It's me who is responsible for the success of the project. I also know when something can work and when it does not. By continually adding to this, I learn new things and follow trends because it is required in this profession. Customers must have confidence in the creators because they come for a vision, not just sales bids. I am pleased that cooperation more and more often looks like that, as a creator, I have the opportunity to introduce my view into a given creation or to make it from scratch. I am mostly fortunate that conscious customers are on my side.
I.G.: What is the main source of inspiration for you? Where are you looking for it?
B.Ś.: Life is inspiring in itself. Collecting inspiration is an uninterrupted process – observing people, behaviours, the needs of a given moment and moods. It's travelling and staring at everything, remembering. I derive inspiration from everything that can be something new or 'foreign'. I look at architecture, lettering, posters or materials in a textile store. I visit museums and galleries and take pictures. I am also inspired by the Internet although it is already indispensable, even obvious in the search for inspiration. Every day, hundreds if not thousands of images and stimuli go through my head. Habitually, every day I browse a few of my favourite websites and watch other creators.
The fun is that spontaneously, as part of the design process, I look at thousands of sources so the work itself is an inspiration for me.
I.G.: Does the collage always have to be surreal or Dadaist in its message? Is it also possible to tell a more realistic story through it?
B.Ś.: The collage has never had a clear message. Rather, it was (or still is) a combination of two meanings from which a third, often very unreal, is formed. I respect this type of collage but in my works I focus on the process of deconstruction, mash-up or some interference in the ready. For me, the collage is visual and not funny. I combine elements, diagrams and patterns but do not transfer them to the work to tell a story. I prefer it when the project intrigues and contains understatements. I like it when people ask – it means they are interested.
I.G.: Collage, although dominant in your works, is not the only artistic form of your creativity. What are you doing now and what are your plans for the near future?
B.Ś.: I design posters, visual identification of events and album covers. I work graphically with the music scene in Warsaw – it's a wide spectrum. I like it when the work goes on in many ways and combines various media such as the recent large murals in the centre of Warsaw. I am currently working on the visual creation of a major event in Krakow, am implementing ongoing projects for the 'Heaven' club [Niebo], and am also slowly preparing for the December Poster Fair.
I.G.: In your works you can see a strong tendency of the aesthetics of modernism of the 1950s or 1960s and a specific charm and a bit exotic, sophisticated elegance. Is this the intended effect?
B.Ś.: I love the aesthetics of modernism, mid-century modern. Animals in my designs are also an element of this passion. There is a level of nostalgia in me or, as you called it, sophistication. These are not accidental elements and, in this respect, I do not seem to be random. I consciously use elements strongly embedded in a certain style that can "play" today. The design and tension are also very important to me in the project – I do not leave excess. Although my designs are often "patchwork-like", I am glad when the composition "breathes". Light is also very important to me and I want it to be a distinctive feature of my style.
I.G.: On the other hand, part of the work draws a lot from the world of street culture and street art in its broad sense. Do you like to combine high and low tones and mix conventions?
B.Ś.: I do this because I would never call street art to be a low tone. Street art is already part of the art of the era in which we live, the art that we create and what we observe. Street art is the most luxurious area of modern pop culture that sells and, at the same time, is the most accessible. Instagram is street art. I do not like when art is closed in exclusive galleries when we 'lick' it through the glass simply passing by. If I can show a piece of art on the street, I just do it. I want people to have direct contact with something that we've referred to as "sophisticated" above. I have no problem with my designs appearing on the streets and disappearing after a month. So, in a nutshell, yes. I mix conventions.
I.G.: Can you tell us your favourite and important artists both from the world of fashion, design but also from architecture, music, film and visual arts?
B.Ś.: Jean-Michel Basquiat, Francis Bacon, Picasso, Dries van Noten and Virgil Abloh. I have read a lot about them lately, have been to boutiques and visited exhibitions where their works were shown. They are the first that come to mind. I highly value the work of designers such as David Rudnick, Eike König (Hort) and Hassan Rahim. I like this style in design.
I.G.: However pretentious this question will be, I think it is worth asking. What is art for you? And what exactly is art for you today?
B.Ś.: Today art is something unfit for life for me. I like to watch it but it does not make me a better person. I focus my thoughts more on usability i.e. the fact that you solve a problem and that the project gives solutions. Perhaps that is why I would like nice and good designs to carry something more than just a medium to sell products. I'm still learning about it.
I.G.: We live in a time of everything, goods, possibilities, in times of billions of inspiration, chaos, endless Internet and boundless Instagram. The collage is a bit like a filter that compiles inspirations and combines them together. This is probably the case with every piece of work but, in the case of a collage, the contact points are more clearly marked. Do not you feel that there are too many things being created today e.g. art? How do you select stimuli?
B.Ś.: Basically, you answered the question yourself above. Everything is too much. We have an overload of stimuli, excess images and an overproduction of textiles. Capturing the most important is difficult. You have to turn on a lot of internal filters and switch off from the outside world. In the era of overloading, simple solutions and strong messages are the most valuable. The selection comes from within although it still concerns what we are experiencing outside. This is probably the longest stage of my work on projects. Sometimes I have the feeling that I am more productive when I do not design anything because once I do, I will generate another element of chaos that will soon be unnecessary. That's probably why I dream about a design that will not show anything.